PLEASE CLICK PAY NOW TO MAKE A SECURE CREDIT CARD PAYMENT THROUGH PAYPAL.
JULIE VAN HERWERDEN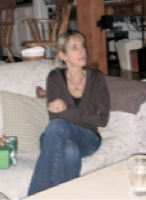 I was born in London, England to a family of ceatives. My father, Voytek, is a well known production and costume designer in the theatre, television and film, honored with two film BFTA awards. My mother Renee an actress for television in many different series and theatre productions. I taught in London at Elementary School for thirteen years. My husband, Wouter, worked as a Sound Director at Complete Video for eleven years.
In 1992 my husband and I came to California, USA, with our two children,Poppie age 5 and Etaih age 2. Wouter began to work at SSI in Hollywood and I began painting whimsical and distressed style furniture for children and adults. In 1994 I became part owner of an artists co-operative called Local Color in Pacific Palisades. Always having an appreciation for children's art work, Wouter and I personalized stationary with their art work as a service offered at Local Color.
In 1997 I began working at Marquez Charter School as an Aide. I worked closely with the 4th and 5th grade students for six years. I began writing Kids Luv Books with the children from the school. Please visit my Kids Luv website www.kidsluv.info to see my other passion, writing books and creating merchandise to help kids in need. 
Since 2003 I have been working as a private tutor to many students for all subjects.
I have two art classes per week every Monday and Tuesday.
Every year for the past seven years I have run a Summer, Spring and Winter Art Camp program  that provides a place for children of all ages to create and share different forms of art and ideas, ending the day with afternoon tea!
Please visit one of my websites.
KidsLuv Books and Merchandise (Profits goto Scholarship America to help students complete their college education)
Summer Art Camp (Six week Art Camp for 7 to 13 year olds)
Winter Art Camp (Two week Art Camp for 7 to 13 year olds)
Kids Art Classes (Weekly Art Classes during the school year)